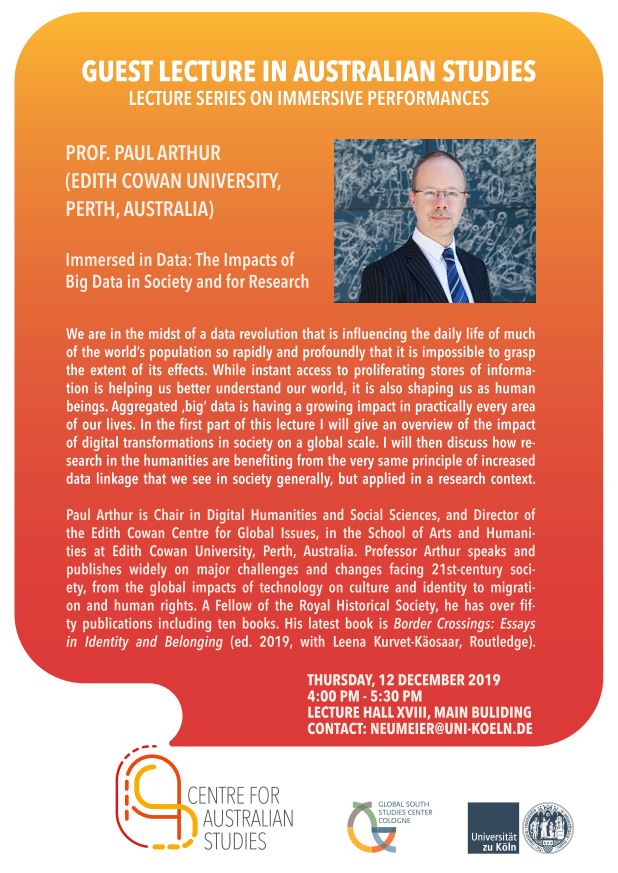 Prof. Paul Arthur, Chair in Digital Humanities and Social Sciences, and Director of the Centre for Global Issues at Edith Cowan University, Perth, is joining CAS as a Visiting Fellow from December 2019 to January 2020. This is the concluding visit of the two-year joint DAAD exchange project on "Migrant and transnational identity-formation: German and Australian responses to migration and asylum seekers in the media and public discourse."
We are looking forward to his talk "Immersed in Data: The Impacts of Big Data in Society and for Research" as part of the lecture series 'Immersive Performances', taking place Thursday, 12 December 2019, 4-5.30pm in the Main Building, Lecture Hall XVIII.
Prof. Paul Arthur concluded his visit with meeting Prof. Dr. Anke Ortlepp, Vice Dean for International Affairs, University of Cologne, to explore forms of closer cooperation, including the establishement of a MoU between our institutions.
Prof. Arthur and CAS are looking forward to continuing collaborations between our two universities.